welcome
Welcome to our world of American Miniature Mediterranean Donkeys [AMMDs]. USA /NZ registered with oustanding pedigrees.

At Clovercrest we have been loving and breeding donkeys for over 40 years. They are more than a hobby, they are our passion! We are now dedicated to the AMMD. We believe they are one of the sweetest animals on earth and the ultimate lifestyle pet!
Our Vision
To be known as breeders of the best American Miniature Mediterranean Donkeys in New Zealand.
Our mission
To constantly improve the breed by selecting for quality in our breeding programme.
Our values
To provide the best possible care for all donkeys on our farm by remaining dedicated to the health and wellbeing of each and every donkey.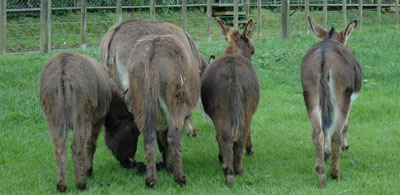 Home of great little asses
Check out our facebook page below