about the stud
At Clovercrest we have been loving and breeding donkeys since 1973. They are more than a hobby, they are our passion!
In 2001, our long held dream of owning an American Miniature Mediterranean Donkey (AMMD) came true when we purchased our very first jenny. We so fell in love with her, we had to have more. We called it "mid-life madness" when we decided on the very expensive venture of importing 2 jennies, one from Canada and one from the USA. We were determined to import only the very best of American Miniature Mediterranean blood lines with outstanding pedigrees.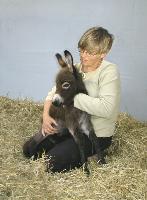 Our first jack, Riverside Sparky Magnito, was the first AMMD to be imported to the Southern Hemisphere from the USA in 1996. We just love this little boy to bits.
In 2005 we imported 3 more Miniature Mediterranean Donkeys from the USA. Another jack and 2 jennies to give us new blood lines. In 2008 we imported a black jack and a black jenny to further compliment our breeding programme.
We take a lot of pride in our breeding programme and are aiming for well conformed, healthy, happy, loving little donkeys which we raise with lots of TLC.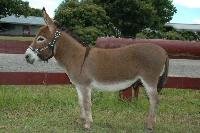 We enjoy showing our donkeys and have done so for many years with great success.
We also enjoy taking the little donkeys out and about. Miniature donkeys love meeting people and going to new places. We do community work - some of our donkeys take part in the SPCA/St Johns "Outreach" programme. They visit the elderly in rest homes and the sick in hospitals. Every year our donkeys take part in the Special Needs Children's Christmas party. The Miniature donkey is ideally suited to working with the young and elderly and disabled because of their small size and docile personalities. We have also been involved with the Fair Trade Organisation doing promotional work.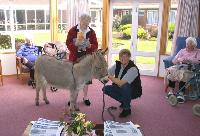 Every year we participate in Auckland's "Blessing of the Animals" on St Francis of Assisi day. We walk our donkeys in the animal parade up Queen Street and take them in to the Cathedral for the animal blessing service.
We also display our donkeys at Pet and Horse Expos and SPCA Gala Days.
Senior Citizen bus tour groups visit our farm, especially in the spring when we can show them our foals.
These are just some of the things we do with our donks, they truly enrich our lives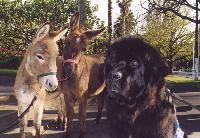 and we couldn't imagine life without them!