Our Herd Sires
3 OUTSTANDING HERDSIRES............
THE HEART AND BACKBONE OF OUR BREEDING PROGRAMME

At "CLOVERCREST" we are dedicated to breeding donkeys that are true in type to the Miniature Mediterranean Donkeys from Sardinia. The original Miniature Mediterranean Donkeys were stocky working animals. We have carefully chosen our jacks with this in mind.
Our goal is to breed well balanced, attractive, sound and sturdy animals with strong bone according to the National Miniature Donkey Association Breed Standard. All of our Jacks have full pedigrees with Champion bloodlines going back to the original imports from Sardinia and are themselves Breed Champions. Our Jacks are Accredited and DNA Typed.
Our own 3 jacks are now availeble for stud duties to approved outside jennies. Stud fee $1000.-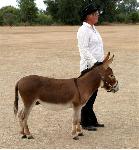 Cyder's Spartacus (Imp.USA)
Spartacus is our smallest jack at just 30" but is very solid and correct in build. His black and red heritage produces some fabulous colour in his foals.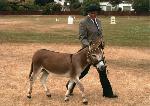 Riverside Sparky Magnito (Imp. USA)
Sparky is our senior Jack and what a treasure he has been ! He typifies the gentle disposition and stocky conformation this breed is known for. He continues to add quality and bone to the Miniature Donkey gene pool in NZ and Australia.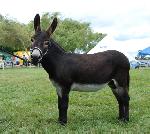 Splendor's Nestle Special Dark (Imp. USA)
Not just a pretty face, Nestle is a very drafty, well-proportioned "typey" Jack with an endearing personality. He is true Black with light points and no visible cross. Nestle was succesfully shown in the USA and he has gone on to do extremely well in the NZ show circuit winning many Championships in open competition. At the annual awards of the Donkey & Mule Soc. AGM in 2011 he won 4 trophies including the ultimate "Pearl Wilson Cup" for winning the most Championships in open competition in breed classes over the season. No American Miniature Mediterranean Donkey in the Southern Hemisphere has a more impressive show record in OPEN COMPETITION than he has.